Clear & Safe 20g Multi-Functional Chlorine Tablets - 1kg + Dispenser + Testing strips
Availability :
In Stock, order before 1pm for same working day despatch
The Clear and Safe Multifunction Chlorine Kit is your comprehensive solution for pool and spa maintenance. It includes 1kg of multifunction chlorine tablets, a floating spa dispenser, and a tub of 3-in-1 test strips for free chlorine, pH, and total alkalinity. Simplify your pool care routine with this all-in-one kit.
Meet the Clear and Safe Multifunction Chlorine Kit, a comprehensive solution designed to make your pool and spa maintenance more efficient and effortless. This all-encompassing kit is packed with essential tools tailored to ensure the health and safety of your pool water.
The kit features a 1kg supply of Multifunction Chlorine Tablets, 50 20g Tablets. A reliable product known for its ability to sanitise water, prevent algae, and clarify water all in one go. These tablets are perfectly compatible with the included Floating Spa Dispenser, an easy-to-use device that efficiently dispenses chlorine throughout your pool or spa, ensuring continuous and effective sanitisation.
To top it all off, the kit also includes a tub of 50 3-in-1 Test Strips. These strips provide a quick and accurate way to measure free chlorine, pH, and total alkalinity levels in your pool or spa. Regular testing with these strips will help you maintain the perfect water balance, contributing to a safer and more enjoyable swimming or relaxation experience.
In essence, the Clear and Safe Multifunction Chlorine Kit is a game-changer for any pool or spa owner, offering a convenient and effective way to manage your water treatment needs. Embrace the simplicity and efficiency of this kit, and ensure the longevity and cleanliness of your pool or spa.
These are high strength slow dissolving tablets, they take 2-3 days to dissolve in a hot tub and 3-5 days in a colder swimming pool. If they dissolved too quickly the chlorine level would become too high and hard to control. The dissolution rate also depends on how they are being dosed, high water flow around the tablet will be quicker than in a floating dispenser.
Contains : Trichloroisocyanuric Acid, Aluminium Sulphate and Copper Sulphate. EC No 201-782-8
How much do i need to use?
Water Volume
Tablets
Litres
Gallons
Amount
1,000
220
2-3
1,500
330
3-4
5,000
1,100
10-15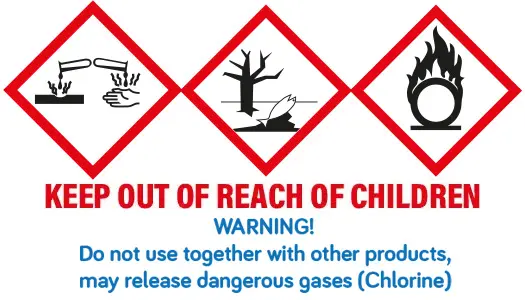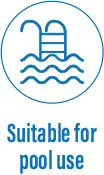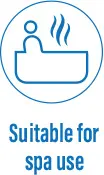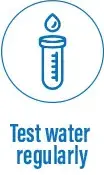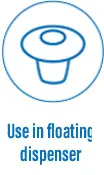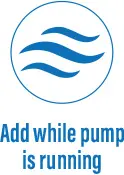 More Information

| | |
| --- | --- |
| SKU | CNS014 |
| EAN | 5055672138785 |
| Manufacturer | Clear & Safe |
| Suitable from | N/A |
| Suitable for | Suitable for domestic use |
| Maximum Load Bearing | N/A |
| Warranty | N/A |
| Warnings | Keep out of reach of children at all times |